Cincinnati Mobile Truck Engine Repair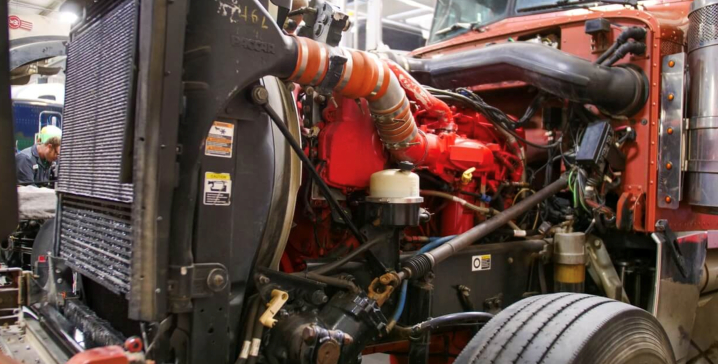 Drivers in the region can get convenient and reasonably priced truck engine repair from Mobile Truck Repair Cincinnati. Our team of skilled mechanics is well-versed in both diesel and gasoline engines, so we can get your vehicle back on the road quickly. We can assist you whether you're experiencing issues with your valves, electrical system, turbocharger, spark plugs, gaskets, pistons, or compression. To avoid further delay, contact Mobile Truck Repair Cincinnati right now.
The engine in your vehicle is designed to run for at least a million miles. But if something goes wrong, just grab your phone and call us at (513) 756-2185.
Engine Trouble
Mobile Truck Repair Cincinnati is here to help if you're having engine trouble. Some indications of engine issues include:
A knocking noise under the hood

The temperature gauge runs high

Rough or hesitant starts

"Dieseling" or hiccuping on shut-down

Misfires or loss of power on the road
If you see any of these, it's a sign that your engine isn't running properly. Come to us for service; our team of qualified mechanics will figure out the problem and make repairs as needed. We're experienced in working on both gas and diesel engines, so we can take care of your truck quickly and efficiently.
Why Choose Us?
There are a lot of mobile truck repair companies out there, so why choose Mobile Truck Repair Cincinnati? We're the best because:
We're experienced: our team has been working on truck engines for many years.

We're equipped: we have all the tools and equipment necessary to properly repair your engine.

We're affordable: we offer competitive rates and accept all major forms of payment.

We're convenient: we come to you, so you don't have to waste time and money towing your truck to a shop.
For the most trustworthy mobile truck engine repair in Cincinnati, call Mobile Truck Repair Cincinnati today. We'll get your engine running like new again in no time.
Our Commitment To You
We are engine repair specialists here at Mobile Truck Repair Cincinnati. We take great pride in leading the industry and providing the greatest customer care. No project is too big or small for us, from valve tweaks to full engine rebuilds. Additionally, we exclusively repair your vehicle with high-quality components so you can rest easy knowing it was done right.
It's not every day a customer can find great service from a dedicated team of professionals, but that's exactly what we offer here. When you choose Mobile Truck Repair Cincinnati for your engine repair needs, you're choosing quality and convenience. We come to you so there's no need to take time out of your busy schedule to bring your vehicle in.
What To Expect From Mobile Truck Repair Cincinnati
When you call us for mobile truck engine repair, here's what you can expect:
A skilled technician will come to your location and diagnose the problem.

Once the diagnosis is complete, they'll give you a quote for the repairs.

If you approve, the technician will get to work repairing your engine.

Once the repairs are complete, they'll test-drive your vehicle to make sure everything is working properly.
You're now ready to get back on the road!
If you're having engine trouble, don't hesitate to call Mobile Truck Repair Cincinnati. We'll send a technician to your location right away to diagnose and repair the problem.
For Hamilton County, It's Mobile Truck Repair Cincinnati
No matter where you are in the county, our team can come to you. Just give us a call (odds are that we can). We're available 24/7 because we don't want anyone waiting for engine repairs. We also offer other services, from truck oil changes to trailer repairs. The next time you need help, don't hesitate to give us a call—we'll be there regardless of what time it is.
Mobile Truck Repair Cincinnati is your one-stop shop for all your mobile truck engine repair needs in Cincinnati. Reach us by dialing (513) 756-2185.